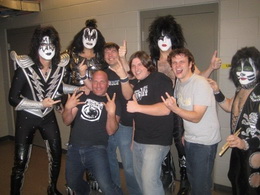 I just wanted to say a quick than you to everyone out there who voted for The Dead Girls to open up for KISS last Thursday at the Sprint Center. The show was absolutely amazing and KISS and their crew were very cool and helpful all day. (I'm working on a blog about it right now, but am worried it may be overkill right now…)
Since I've been obsessed with the band ever since I was six years old (They are pretty much the reason I started playing drums in the first place), it was a pretty big deal to me. So again, thank you to all our friends and fans, 101 the Fox for selecting us as a finalist, and KISS themselves for being so hospitable.
Here's a photo we took with the band in full make-up minutes before they took the stage. Click here to go to my Facebook page and see a chronological slide show of our amazing day opening for KISS.
thanks again!
Eric